Testimonials from 2010:
I had a meeting last week with the school nurturing team -- a team of teachers, assistant principal, parents, students and specialist that help students who are struggling with school. After many years of asking for more from Zoey, she was referred to the team at the beginning of last year mainly for not meeting grade level expectations since kindergarten. After many other approaches over the years, this team started to demonstrate that it was effective in helping Zoey be at grade level at the last quarter of the year. The nurturing team requested a meeting with me to discuss moving Zoey out of the nurturing team, because Zoey is now working assertively and confidently at or above grade level… They wanted to know what Zoey did over the summer. While they generally see a decline for a majority of students over the summer, they could not figure out how Zoey was able to make so much growth over the summer. Well, the best-kept secret and most delicious summer camp news is out. …. It is important for me to tell you that as we move along in our day-to-day life, we embrace what you have brought to our family and the many children at Terra Summer and to the future. The impact is strong, lasting and encompasses who we are and what we strive for in our life.
Diane Benbow, Terra Summer parent, 2010
This lesson about knowing where your food comes from, and how all academic areas can be approached from this central theme, is very powerful… Our daughter had four weeks of intensive study with adult role models of the best kind – caring, knowledgeable, skilled, and thoughtful. .. She learned about "seed sex" and how something called tofu tacos could be delicious. She pondered inequities related to how some people eat too little, and the tragedies that come from that, and how some eat too much (and can ruin their health). She considered the plight of animals in this world,… and without judgments being made, Nancy was asked to just think about it, for herself. We talked about these things at home. We were all a part of camp … An academic summer camp that takes kids to a place that is almost completely neglected and disrespected is an idea that is badly needed and much appreciated by our family.
Rebecca Wait, Terra Summer parent, 2010
Terra Summer was challenging to [my daughter] on many levels, but she never felt overwhelmed or diminished because she could not keep up. I commend you and your staff on that – it is an achievement that many seasoned teachers have yet to accomplish.  Rachel loves to cook and now she has more confidence than ever in the kitchen ... in fact she is teaching us about different herbs, vegetable combinations, and the reasons certain things cook the way they do. Her mini-vegetable garden that she brought home is growing nicely and she is tending it regularly. In addition, the whole family has joined her in her commitment to two days a week of vegetarian meals only.  So Rachel has learned and grown and inspired all of us to learn and grow from/with her.  It is these types of lessons that will take her the farthest in life. With this type of confidence, motivation, and knowledge I know she will overcome any struggles she may encounter! Terra Summer has contributed enormously to Rachel's growth and learning - I can't thank you enough.
Susan Stigall, Terra Summer parent, 2010
Terra Summer has a wonderful way of getting kids to experience and see in a different way than they are accustomed to. I know Sarah is changed and I see her thriving and feeling like she has folks around who understand her and what she is about. More importantly, she feels empowered as a person, as a voting entity and as a living being. I thank you so much and all your staff for this incredible journey… If everyone would look upon one another the way you look upon these kids, our world would be and feel much different. Thank you, thank you, really!
Joanie Doss, Terra Summer parent, 2010
I am so grateful that a program like Terra Summer exists. I was amazed by the quality of the food provided for the students to work with. I was equally impressed with the staff and the facility. We look forward to next year already!
Tama Dickerson, Terra Summer parent, 2010

I can't wait to use the skills [I learned] of saving seeds. I thought that learning about my choices impacting the world in good and bad ways was also important. Animal rights really felt meaningful to me also …I thought Terra Summer was awesome… and I can't wait to use all the skills and concepts that I learned!
Kerewin Dickerson, Terra Summer student, 2010
We sent our son to Terra Summer to broaden his awareness of how his choices affect more than himself. Using food and cooking as the tool to teach this worked magically. He developed a more global perspective and a rare ability to see beyond his own 6th-grader nose. In four weeks of close interaction with dedicated and educated adults, he increased his reasoning and abstract thought and his capacity for supporting his opinions on all subjects. He is more confident in expressing himself, noticed by both of his parents and other adults. Additionally, he is no longer narrow-minded about his food choices and is willing to try nearly anything we put in front of him. He loves cooking and participating in preparing meals … We can't thank Terra Summer's staff enough for what they've done for our son's development. The program's philosophy is fantastic and enhanced perfectly by the quality of the people chosen to work with the children. Thank you!
Gail LePage, Terra Summer parent, 2010

I was changed [by the Terra experience]. I was changed by all the little movies we watched because we saw what is happening to the world and to animals.
Kristopher Livingston, Terra Summer student, 2010
Terra Summer has so much to offer to so many children … I was impressed with the depth and the scope of the program overall and I really enjoyed what the staff brought to the experience. My child was an enthusiastic about the people as she was about the activities!!!
Paige Hafner, Terra Summer parent, 2010
Terra Summer is completely awesome!!! I learned so many new things there and made a lot of new friends. I was taught not only how to grow food, but how to prepare it in healthy and delicious ways with a lot of variety, even for people with my strict dietary necessities. I loved Terra Summer because people didn't judge me because I'm a vegetarian, or because I'm allergic to gluten and dairy. In fact, I nearly forgot about it...because my food they made me tasted just like everyone else's!  Thank you and give all the staff a hug for me!
Mira Tieman, Terra Summer student, 2010
My daughter attended Terra Summer.  What a delight for me, as a parent, to watch her blossom in her time at Terra! She came home daily to share what she was learning, including giving me, an experienced cook, recipe tips. In the last days of the program she gave me a enthusiastic tour, starting in the kitchen and then on to the greenhouses, naming plants along the way.  She showed me the stream the kids delighted playing in and the garden bursting with produce.  She pointed out plants I did not know, sat me down in the bean tepee to rest, and fed me Sun Gold tomatoes along the way.  She showed me the plot she worked on with a team, and introduced me to the friendly neighbor's horses.  My 18-year-old niece moved in with us recently and in her first days my daughter showed her how to cut onions and other veggies while echoing what she learned from Terra … I am left with one question: When can we adults sign up?! 
Tara Tieman, Terra Summer parent, 2010
Terra Summer is a wonderful, innovative, and ambitious summer camp. It offers something that children have little connection to today – nature. It is a refreshing alternative to camps offering more adventurous activities such as rafting, which are not appropriate to every child this age.
Chanel Bishton, Terra Summer parent, 2010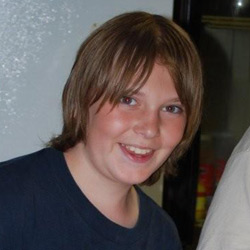 Terra Summer made me a better person. By learning to choose free-range chickens for my eggs it makes me feel a lot better because I am not sponsoring caged chickens, and money for the eggs only pays for more cages, which only makes it worse. I loved Terra!
Broden Smoke, student, Terra Summer 2009
My son's experience at Terra Summer was amazing! He said it was the best summer he's ever had! I researched virtually all summer programs available in the area, and Terra was by far the most diverse and fulfilling. I would recommend Terra Summer to anyone with a young teenager. By using a hands-on approach taught by a very knowledgeable and caring staff, it gave my son a clear understanding of the fundamentals needed to be a strong, contributing individual.
James Smoke, parent, Terra Summer 2009
Whether it is exploring the history of spices, learning how to make sushi, or harvesting carrots on our organic farm, Terra Summer helps students engage with one of the most important questions of our time: Where does our food come from? Through art projects and cooking, science experiments and farming, and discussions about the social issues of food production, Terra students explore the role food and agriculture play in shaping the world around us, and by visiting grocery stores, meeting local farmers, and learning how to forage for their own food, they increase their knowledge of the world and put their experiences into a broader context. Direct experience and focused reflection are central to the Terra philosophy. It is not only one of the most exciting summer opportunities for middle-grades students; it will prove to be one of the most important academic programs for youth today … And this is precisely the kind of work I hope to be part of for years to come.
Taylor Kirkland, humanities teacher, Terra Summer 2009

Pat and Rocco taught me things I didn't even know about, like germination and different plants and bugs. I do feel changed by Terra because I learned how to farm and now I want to grow my own food and other things, too!
Marlynda Steiner, student, Terra Summer 2009
Terra Summer begins to satisfy a desperately needed niche in this country by providing children with real-life understanding of where their food comes from! Children learned what compost was, what organic means, and much more about where their food comes from. … It definitely enhanced my own understanding of the food industry, locally and globally, and made a lasting impact on my own food choices, especially those pertaining to meat. Professionally I am already (two weeks out of Terra Summer) implementing things I learned at Terra in my new job. Keep it going!!!
Jessica Sharp, science teacher, Terra Summer 2009
Terra Summer was an excellent experience for my child. The Terra concept of learning about the world through food is one of the best approaches in getting children (and adults) involved in a complete experience – not just academically. We want to see more of Terra!
Hans Stader, parent, Terra Summer 2009
I feel like I gained more knowledge than the students, and this has impacted my thoughts on food and the world.
John Miller, math teacher, Terra Summer 2009